JCSOS(English)
The Japanese Council for the Safety of Overseas Students JCSOS is the largest and only NPO Non-Profit organisation supporting Japanese universities and other educational institutions in terms of safety measures and crisis management in overseas countries. JCSOS was founded by Mr. Kenichi Ikeno in October 1998.
The administrative activities are assisted by partner organisations. Our goal is to ensure the safety of students sent on study abroad programmes by our member institutions and to contribute to the development of international education between Japan and rest of the world.
The evolution of JCSOS with JAFSA
The origin of JCSOS dates back to 1974, the year the College of International Education, Oxford (CIE) was founded in England. CIE - Oxford is part of the UTS Educational group. After the formation of CIE, the Japanese and British partners learned the importance of crisis management.
JAFSA, the Japan Network for International Education was founded in 1968 by Japanese university administrators and faculty members. They participated in the NAFSA conference and they saw the necessity for forming a similar body. JAFSA and NAFSA have been co-operating with each other since their foundation. JCSOS and JAFSA shared the same founding spirit, supporting Japanese universities and helping each other. This became apparent when Mr. Kenichi Ikeno joined the board of JAFSA in 2012.
JCSOS and JAFSA are the only organisations following the NPO Non Profit Act for Japanese universities in international education. The finances of both organisations are maintained by membership and registration fees of member universities. Both secretariats are under the board of trustees. JCSOS organises various seminars and crisis management simulations on a fee charging basis. Further human resources and finances are supported by partner members.
What JCSOS does?
JCSOS has examined various accidents and court cases which have occurred in the past, and has introduced a safety system for member schools. The scheme is a combination of university management, educational information, investigation, insurance, risk consultancy and travel agency law for 163 universities as of October 2020. Emergency calls from students abroad are answered by a 24-hour 365 day service in Japanese.
Overseas educational institutions would feel re-assured when accepting Japanese students from JCSOS members.
JCSOS and consulting services
In the last few years JCSOS has seen the importance of providing a consultation service not only for international centres of member university but also for university management to enable schools to carry out proper international educational programmes with risk assessments. From April 2018 to March 2019 JCSOS provided support for 26,308 students sent from member universities and schools.
Supporting bodies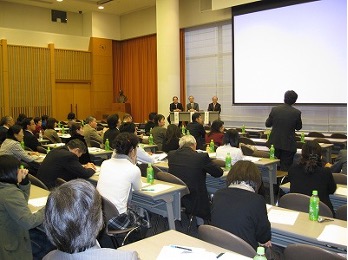 JCSOS understands that crisis management's key element is networking. It is important to establish links with all interested organisations. Actual crisis management, especially medical cases, is covered by UTS and the Tokyo Marine group, the biggest insurance company in Japan. Further direct consultation with students and parents in complex situations is covered by Japan Risk Management and Sakuragaoka Law Firm. They are all partner members of JCSOS.
JCSOS board members
Mr. Kenichi Ikeno founder/the chair, founder/CEO of UTS group
Mr. Miaki Nose Trustee of Japanese Council for the Safety of Overseas Students
Mr. Mitsumasa Sakurai, lawyer/president of Sakuragaoka Law Firm
Mr. Sachio Ohno, deputy director of travel insurance department of Tokyo Marine
Mr. Paul Snowden, Waseda University Emeritus Professor, former vice president of Kyorin University
JCSOS Advisory members
Prof. Yuichi Kondo, Ph.D., Ritsumeikan Asia Pacific University
Mr. Junichi Mori, professor emeritus of Kyoto University
Mr. Etsuji Sakai, Chief Executive Officer of Japan Risk Management Corp.
Dr. George Okuda M.D., Ph.D., Managing Director, HIBIYA CLINIC
Mr. Nobumasa Yoshida, former executive board member of Hosei University
Mr. Yoshihiro Ozaki Founder and CEO, Kaigai Anzen Kanri Honbu
Ms. Hisaho Masunaga, security advisor
Dr. Kiminori Nagano, university management consultant, Ph.D.(higher education, the University of Tokyo)
Dr. Rumi Umino, Former Associate Professor of Hagoromo University of International Studies
Partner Member Organisations
UTS Centre for International Education group
Tokyo Marine Insurance Group
Sakuragaoka Law Firm
Japan Risk Management Inc.
Secretariat
Mr. Satoru Nagahara, director general
Mr. Aki Ueno
Mr. Yu Yamagishi
Ms. Miyoko Miyata, director of finance
Ms. Masako Segawa
Ms. Yukiko Kaneko
Ms. Minako Okada
Ms. Fumiko Yoshida
Members: EAIE, NAFSA, JAFSA, IDE, Japanese Society of Travel and Health